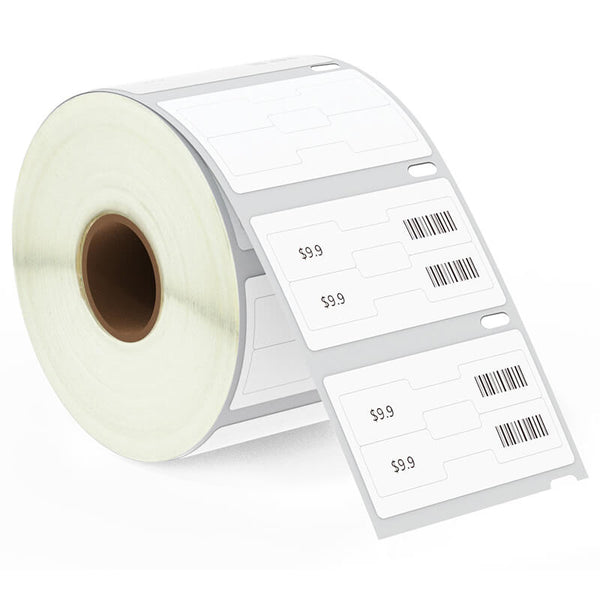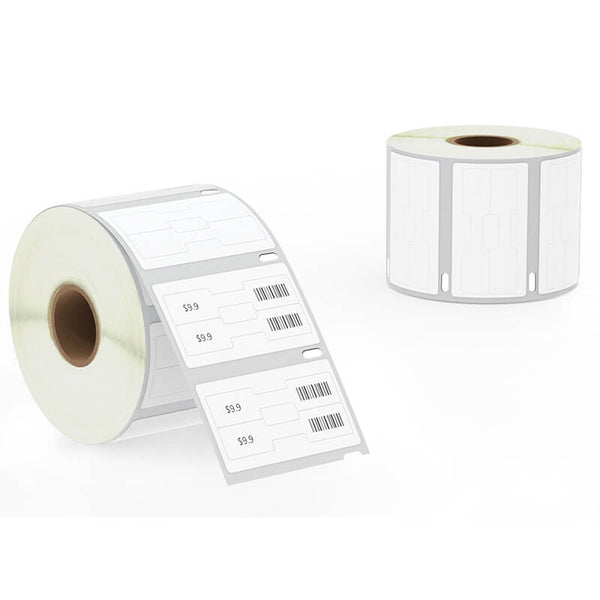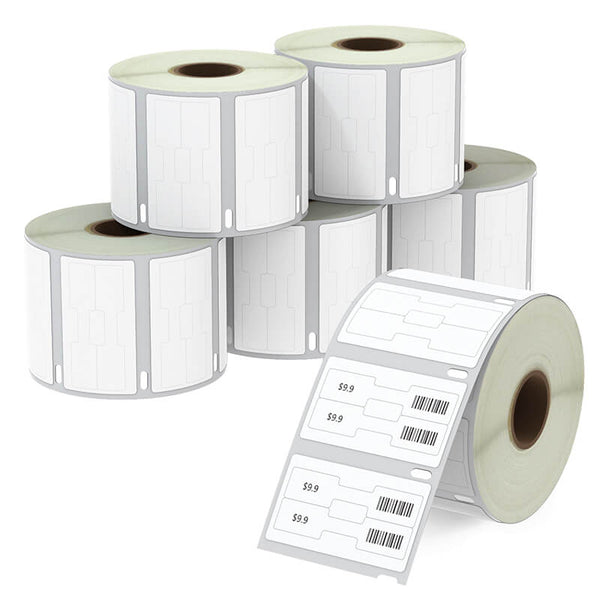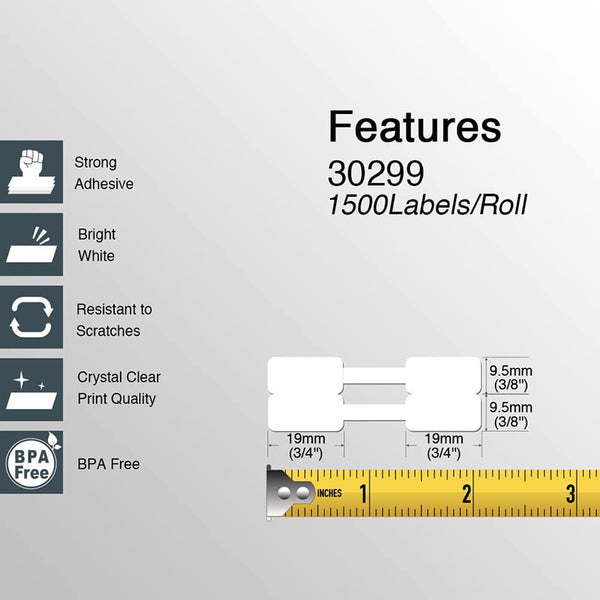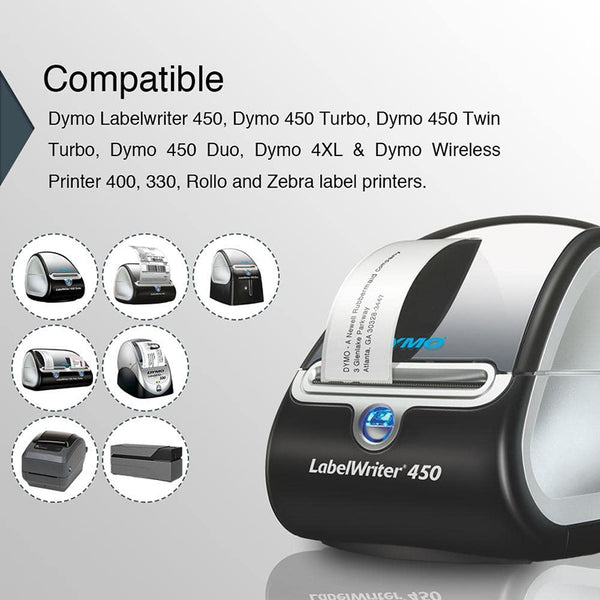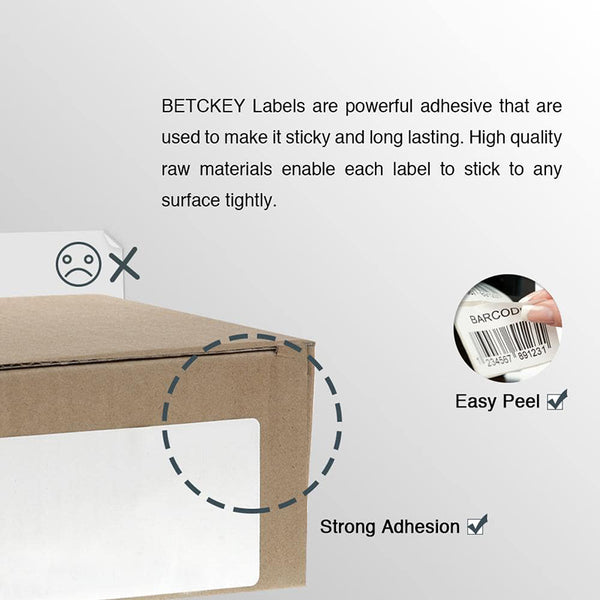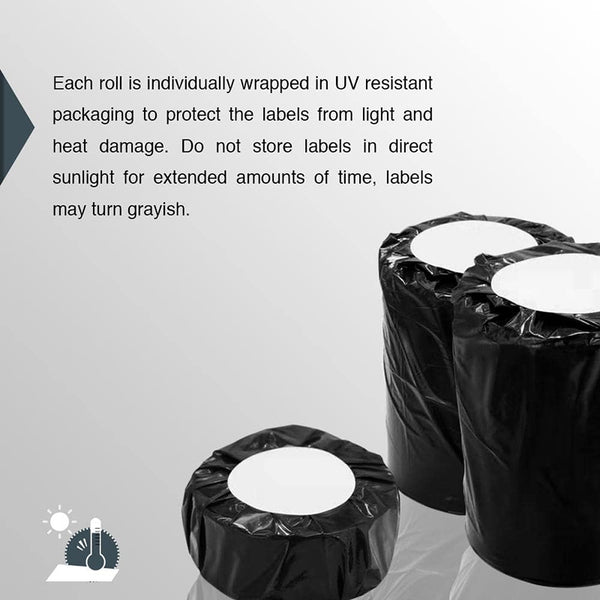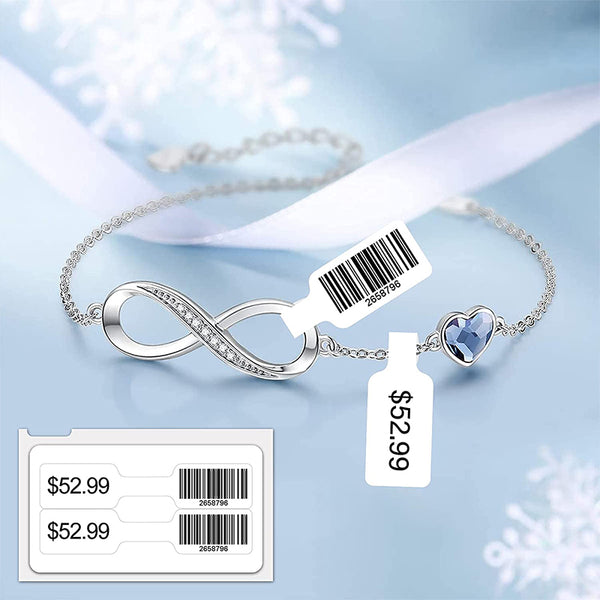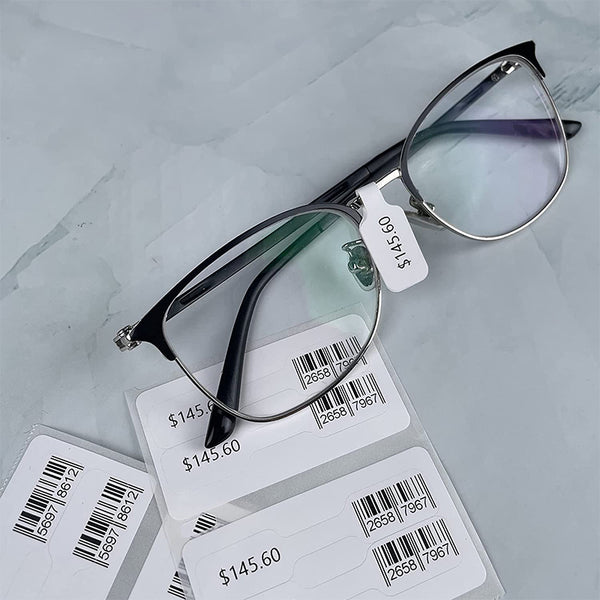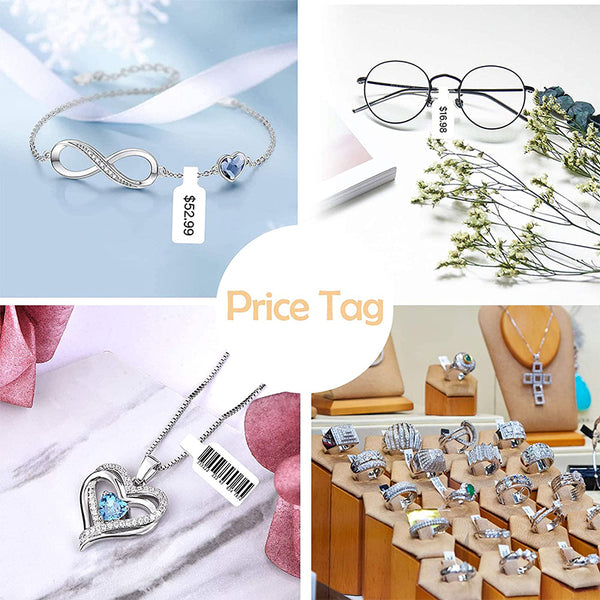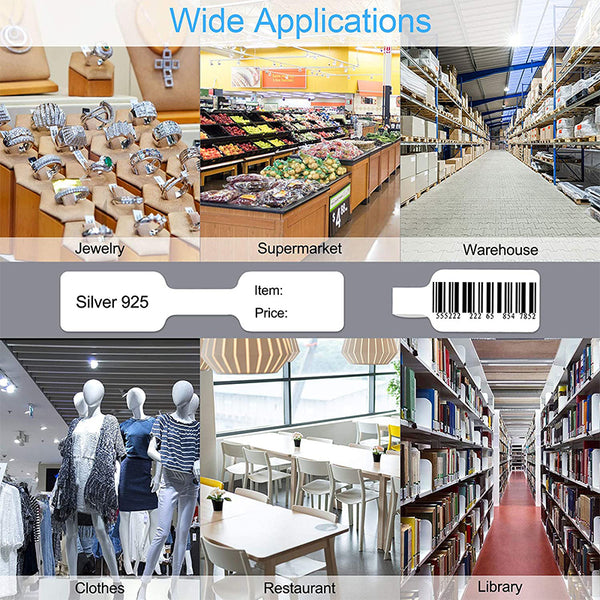 Betckey Dymo 30299 Jewelry/Price Tag 2-up Barbell Replacement Labels 3/8" x 3/4"
Betckey Dymo 30299 Jewelry/Price Tag 2-up Barbell Replacement Labels 3/8" x 3/4"
The Betckey brand Dymo LW 30399 Compatible Jewelry/Price Tag Labels are suitable for All Dymo 400 series Labelwriter printers. Our Betckey 3/8" x 3/4" thermal labels are available for a fraction of the price of the Dymo brand 30299 labels letting you save more money, without lowering quality and performance! Designed for use with the Dymo price tag label template, these labels are 100% compatible with all Dymo Labelwriter printers. Our Dymo 30299 Compatible labels comes in 400 labels per roll to meet your labeling needs. Our compatible price tag labels are made from premium-grade material, backed with strong permanent adhesive, which shouldn't fall off during use, will help your work better. These labels are perfect for price tags or for labeling small items like jewelry and eyewear and tagging for other office and home labeling applications.

DYMO 30299 LABELS PRODUCT FEATURES:
【Quality First】Betckey DYMO 30299 Compatible Labels are White & High Quality direct thermal paper with sharper text and print quality for all your labelling needs. Smooth and tidy rolls make the printer fluently. Patented design enables easy and fast peeling, it is BPA free. Resistant to scratches. Label Dimensions:
3/8" x 3/4"

. 1500 labels per roll.  Self-sticking permanent adhesive and BPA Free.
【JAM-FREE】Avoid time-consuming printer issues such as label jams and misfeeds. Betckey Labels are powerfully adhesive that is used to make it sticky and long-lasting. High-quality raw materials enable each label to stick to any surface tightly.
【Jewelry Labels Template】DYMO 30299 is Price Tag Labels. Don't worry about creating a jewelry label template. With the Dymo software it is simple to create jewelry label templates. Dymo has you covered. Just click the Dymo size 30299 and your jewelry label template will appear in the software. These labels are perfect for price tags or for labeling small items like jewelry and eyewear and tagging for other office and home labeling applications. You can write price and material number on these price tags to manage inventory For rings, necklaces, earrings, watches, bracelets, etc. 

【Warm Tips】DYMO 550 & 5XL Request RFID chips. So BETCKEY DO NOT COMPATIBLE WITH DYMO 550 & 5XL.
【Good Value】These Dymo compatible 30299 labels meet or exceed OEM requirements for quality and performance. Perfect for FBA and as price tag labels - Print custom jewelry price stickers for your merchandise. These stickers are a popular choice for labeling jewelry, glasses, or other products.
Model
Inch size
Metric size
Spec
Use for: Including But Not Limited To
Compatible
30252
1-1/8" x 3-1/2"
28mm x 89mm
350
Adress
DYMO 450, 450 Turbo,
450 Twin Turbo,
450 Duo, 4XL&
Wireless Printer, 400
332, Rollo, Zebra and
more Thermal Label
Printers
30321
1-4/10" x 3-1/2"
36mm x 89mm
260
Large Adress
30323
2-1/8" x 4"
54mm x 101mm
240
Shipping
30324
2-1/8" x 2-3/4"
54mm x 70mm
400
Veterinary Diskette Media
99019
2-5/16" x 7-1/2"
59mm x 190mm
150
Confirmation/UK Large Lever Arch
30336
1" x 2-1/8"
25mm x 54mm
500
Small
30334
2-1/4" x 1-1/4"
57mm x 32mm
1000
Medium Multipurpose
30256
2-5/16" x 4"
59mm x 101mm
300
Large Shipping
30332
1" x 1"
25mm x 25mm
750
Square
30346
1/2" x 1-7/8"
13mm x 47mm
600
Library Barcode
30347
1" x 1-1/2"
25mm x 38mm
750
Book Spine Label
30857
2-1/4" x 4"
57mm x 102mm
250
Visitor Name Tag Badge
1738595
3/4″ x 2-1/2″
19mm x 64mm
450
Barcode/File
30333
1/2" x 1"
13mm x 25mm
1000
Extra Small 2-Up
30330
3/4" x 2"
19mm x 51mm
500
Return Adress
30277
9/16" x 3-7/16"
14mm x 87mm
260
File Folder(2-up)
30915
1-5/8" x 1-1/4"
41mm x 32mm
700
Stamps
30299
3/8" x 3/4"
9.5mm x 19mm
1500
Jewelry/Price Tag(2 up) PE Film
30373
7/8" x 15/16"
22mm x 24mm
400
Price Tag/PE Film
1744907
4" x 6"
104mm x 159mm
220
Shipping
DYMO 4XL, Zebra,
Rollo, Eltron, Intermec,
Datamax, Fargo, Sato, NEX
and more Thermal Label Printers,
and most of the Thermal
Label Printers that the
print width can be adjusted to 4"
[Warm Tips]: 550 & 5XL Requre Dymo Unique RFID chips.
All OTHER THIRD-PARTY SUPPLIERS ARE NOT COMPATIBLE WITH 550 &5XL
Bulk Order/Whole Sales/Partner
Return Policy
Thank you for your purchase. We hope you are happy with your purchase. However, If you are not completely satisfied with an item you have purchased from our site, return or exchange it to us within 7 days after received. And Refund will be issued as soon as the returned package confirmed.  If you are returning items that were ordered as part of a promotional discount or were bundled, we will gladly accept the return; however, the value of the discount, free product, or gift card will be deducted from your reimbursement.
Note the following:
1.All returns and exchanges must be new and unused, in the original packaging and contain all original parts and accessories and with proof of receipt include the original invoice and package tracking number.
2.Buyer is responsible for return shipping cost.
3.It generally takes 5 to 7 business days to process the returns and exchanges if the item is received.
4.We cannot be responsible for lost or damaged packages that are sent to us for return or exchange. Therefore we recommend you purchase insurance from your shipper. 
5.We cannot be held responsible for damage to items resulting from improper use not in accordance with listed directions or established practice
6.Once used, it cannot be returned and if defective or damaged must be returned to the manufacturer for warranty repair or replacement.
If a product arrives damaged or your order is incorrect in any way, please contact customer service for assistance at cs@betckey.com.
We offer full refund on any items that are found to be faulty or
damaged due to our fault. All returned items must be in brand-new condition, unused and with original tags and packaging.
To be able to better assist you, when shipping your return product
please include a note in the box with the following information:
First and Last Name
Order Number
Reason for Return
Return Address
Once we receive your returned package, we will promptly process an exchange or issue a refund to your account in accordance to our return conditions, please do not worry about it.
Frequently Asked
Product FAQs
Have product questions?
See now: Help Center
ORDER
Can I Change Or Cancel My Order?
Because we strive to get your order shipped as quickly as possible, we cannot change or cancel an order once it has been shipped.
Can I Change My Shipping Address After Placing An Order?
Please be advised that your shipping address cannot be revised after the order has been processed or shipped. kindly update your shipping address to your residential address instead of your vocational address as we do not know how long the destination's customs department will have the package on hold.
SHIPPING
How Do I Track My Order?
We will email your tracking information as soon as your order has shipped. usually you will receive the tracking number one day after we have shipped your order.
When Will My Order Arrive?
The shipping generally takes 3 to 7 business days before successful delivery. All delivery times are quoted in business days, weekends and holidays excluded. Order will be processed the following working day if all orders placed after Friday.
Is My Order Eligible For Free Shipping?
Free shipping can be applied to orders that meet the minimum amount required, excluding discounted, and sale. All items are free shipping over $50.
PROMOTION AND OTHERS
Promotion And Discount Codes
You can enter the promo code during checkout at any time.
You can find the code box on the left-hand side on the homepage if you follow us.
*Please note that only one promotion or discount code can be applied.
Can I Use Several Discount Codes In One Order?
Only one code can be used per order at this time.
Betckey Dymo 30299 Jewelry/Price Tag 2-up Barbell Replacement Labels 3/8" x 3/4"
Work fine in my label printer.
These work perfectly in my label printer. I have printed over 500 labels with no issues at all. This will be my source for labels from now on.
Perfect Label
Glad to have discovered Betckey, my order arrived in record at a great price!
Best Dymo Jewelry label with Caveat
This label is awesome- great sticking, longer center area, squarer edges than other dymo-fitting stickers! The caveat is that they would be better without the cut-out center backing. If the backing were solid, there wouldn't be tiny tab trash floating around your workspace. Also sometimes they are cut too deeply and they stick to each other on the spool and mis-print. This can be an expensive, irritating, and time-consuming prospect, what with paper jams, labels getting yanked all over the printing heads, and tons of wasted labels! Still, even with these issues, they are the best I've found. PLEASE stop with the center cut-outs!! On average, I use 4 spools per month.