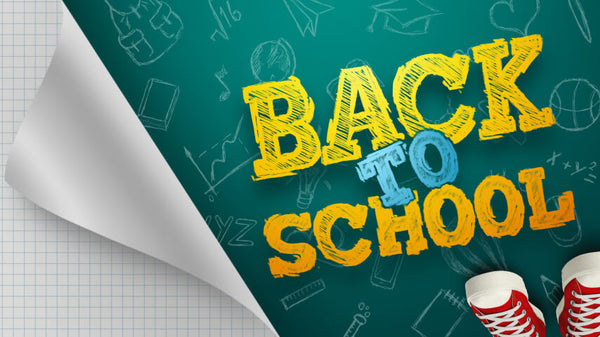 The back-to-school shopping period holds immense significance as it encompasses individuals ranging from kindergartners to college students. Additionally, parents, caregivers, and educators are also part of this seasonal transition. This period marks not only a return to school for students but also a return to parenting and teaching roles. In terms of retail, it stands as the second most substantial shopping season, trailing only behind the high-impact periods of Black Friday and Christmas.
If you're planning to revitalize your product offerings during this back-to-school season, allocating effort towards effective back-to-school marketing becomes imperative. Let's explore the optimal timing for engaging in these marketing endeavors.
1.
Collection of Your Back to School Products
If your inventory includes items that align well with the back-to-school season, a straightforward and effective approach to driving sales is by presenting them prominently.
A compelling illustration of this can be seen in the case of the bag brand, Baboon to the Moon: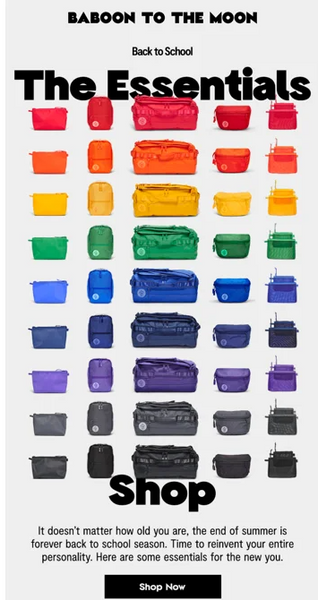 They not only feature a diverse array of products but also emphasize the extensive range of color choices available. Whether you're inclined towards making a statement with vibrant yellow or prefer a more understated hue, their collection caters to your preferences.
The messaging in this instance is elegantly straightforward, yet the thematic context and timing are ideal. Therefore, if your product lineup encompasses items suitable for the back-to-school theme, crafting an email (and ideally, a text message) that showcases these offerings is an effective strategy to stimulate sales.
2.
Make Shopping Simple
If your selection of products suitable for the back-to-school season is limited, sending a single email that highlights them can be highly effective. However, what if you possess an extensive array of products that you wish to showcase?
Curating user-friendly collections is an excellent strategy to aid your audience in navigating your comprehensive offerings.
Maisonette offers a prime example of this approach to make their extensive product range easily accessible:

By categorizing their products into distinct sections, individuals can conveniently locate precisely what they're seeking. Whether it's essentials, toys, or backpacks, there's something tailored to everyone's preferences.
It's crucial to bear in mind that an excess of choices can lead to overwhelm. Simplifying the shopping experience enhances the likelihood of audience members making purchases. By streamlining the process and guiding them, you can undoubtedly reap the rewards.
3.
Offer Special Offer
An exclusive discount holds a pivotal role in effective back-to-school marketing. Discovering a favorable offer brings a sense of satisfaction, fostering not only repeat purchases but also spreading the word through organic word-of-mouth promotion.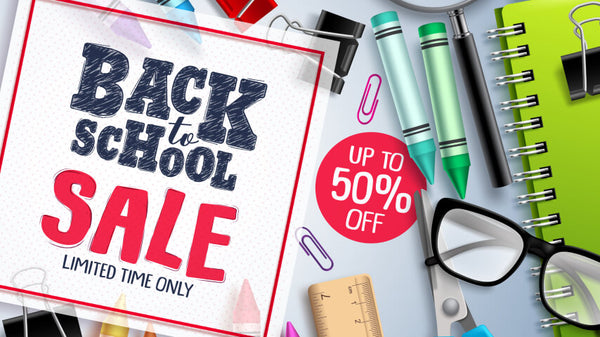 Tailored to particular demographics, student discounts are a well-established incentive that users actively seek out.
Teacher discounts provide a gesture of gratitude for the individuals who invest tremendous effort during the back-to-school period.
Discounts for returning customers are a way to reward those who engage with your brand repeatedly. Patrons enrolled in your customer loyalty program can benefit from reduced prices. Those who subscribe to your newsletter or follow your social media platforms can also access discount vouchers as a token of appreciation for their loyalty.
4.
Offer Giveaway
Offering giveaways represents a straightforward marketing approach that yields high engagement while maintaining costs within the confines of the prize for the fortunate recipient. However, the prize must possess substantial appeal to entice potential participants. This could include items such as personalized backpacks, water bottles, notebooks, and more.
An excellent illustration is showcased through Staples' "Restock Your Classroom" giveaway, wherein any teacher stands a chance to win a surprise box filled with school supplies worth $500, merely by registering.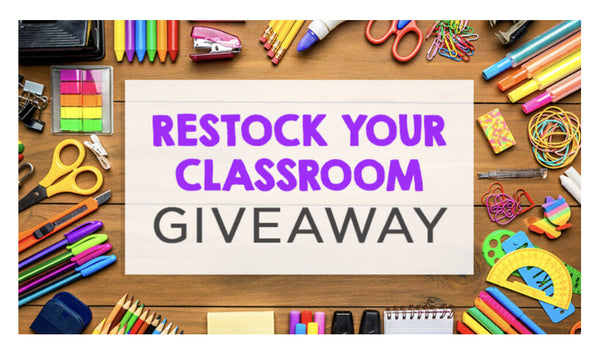 Craft your giveaway strategy and establish a set of entry requirements. Potential participants might be prompted to undertake actions like:
Following, sharing, replying, and retweeting on social media platforms
Engaging in social media challenges
Providing testimonials for a product or service
Subscribing to your newsletter
Incorporating specific hashtags in relevant posts
Popular social media platforms such as TikTok, Instagram, Twitter, and Facebook offer ideal arenas to experiment with diverse giveaway concepts
5.
Create a Killer Bundle
playbook and put together some customer favorites with a back to school spin to get your audience interested. Then you can showcase it on your homepage, social, and anywhere else that makes sense to bring in sales for your store.
It's widely acknowledged that offering bundles is an effective strategy for boosting your average order value (AOV). This quality is what renders bundles a compelling proposition regardless of the time of year.
If you possess products that can be combined at a discounted rate for the back-to-school season, it's certainly worth giving it a try. A prime example is demonstrated by activewear brand Girlfriend Collective: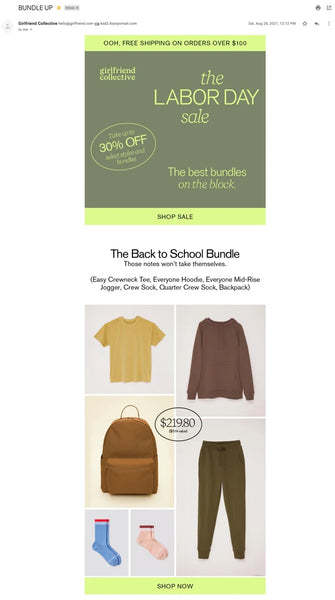 What contributes to its effectiveness? The comprehensive description and accompanying images that outline all the products included in the back-to-school bundle, ensuring absolute clarity about the contents. Additionally, the substantial savings of nearly $100 enhance the appeal. Coupled with a prominent shopping button, the customer experience is seamless.
Even if your products don't inherently correlate with the back-to-school theme, you can draw inspiration from Girlfriend Collective's approach. Curate a collection of customer favorites with a back-to-school twist to capture your audience's interest. You can then prominently feature this bundle on your homepage, social media platforms, and any other relevant channels to drive sales for your store.