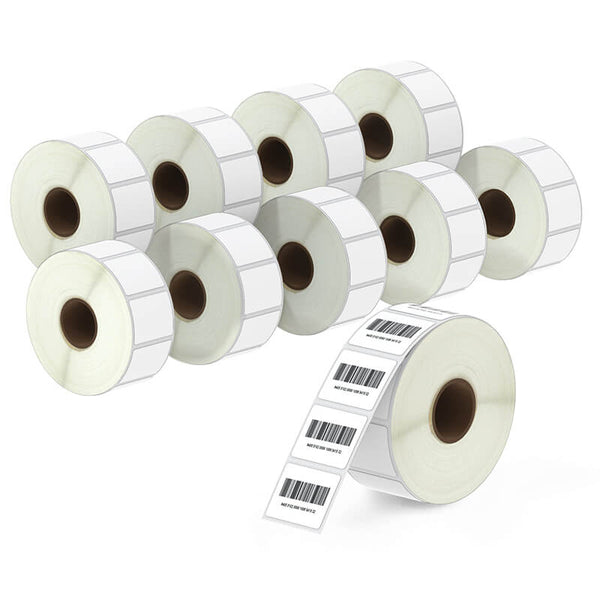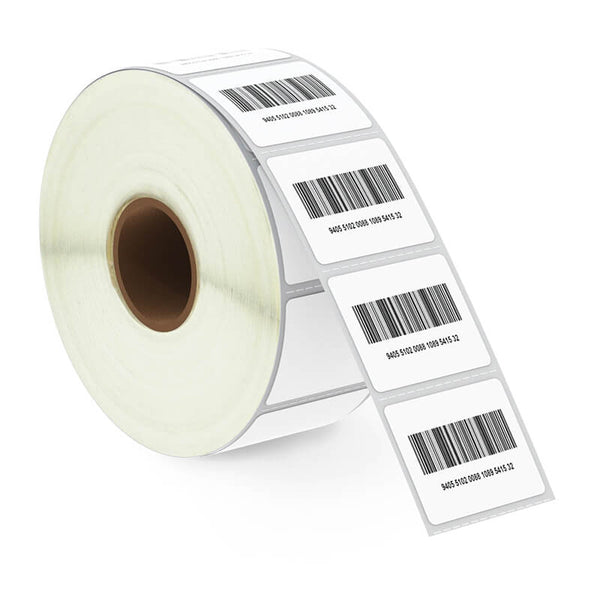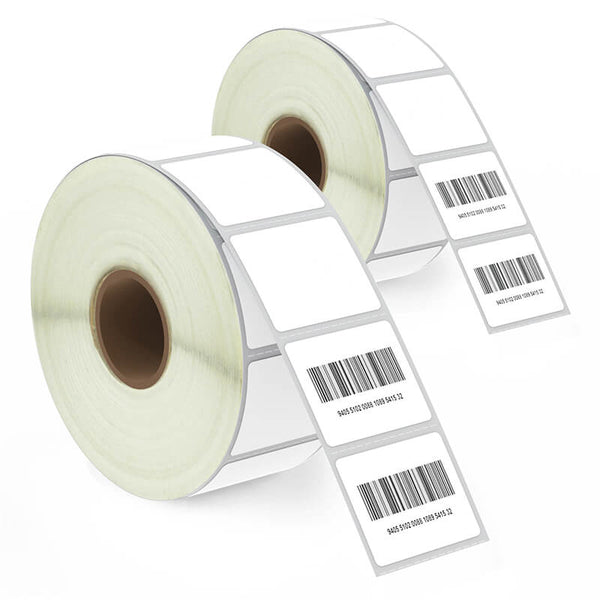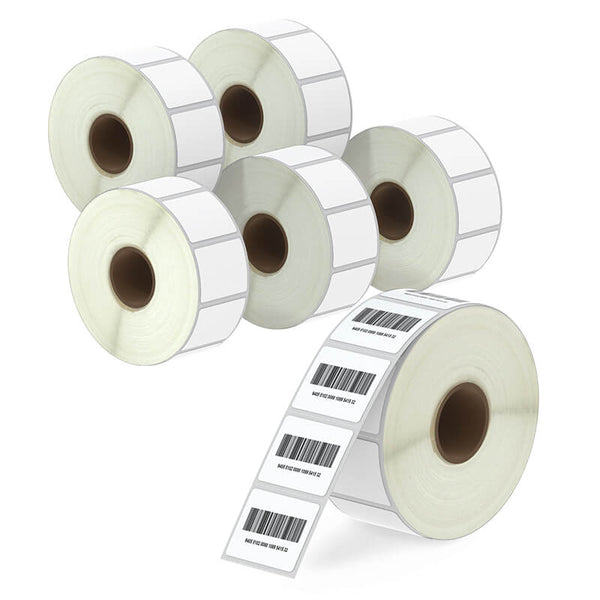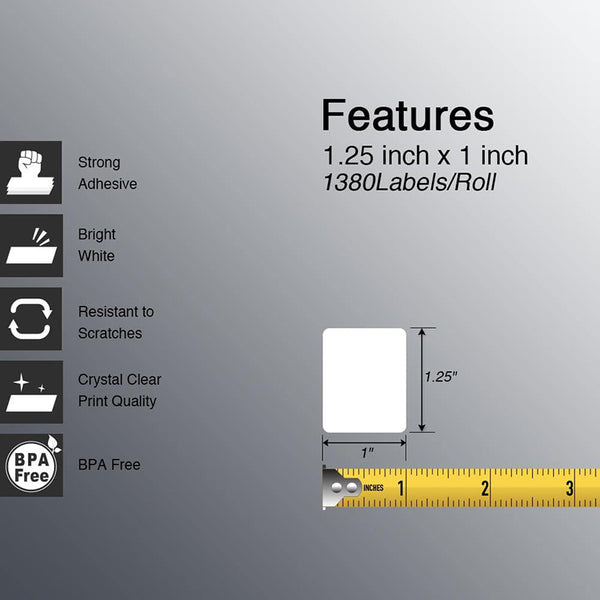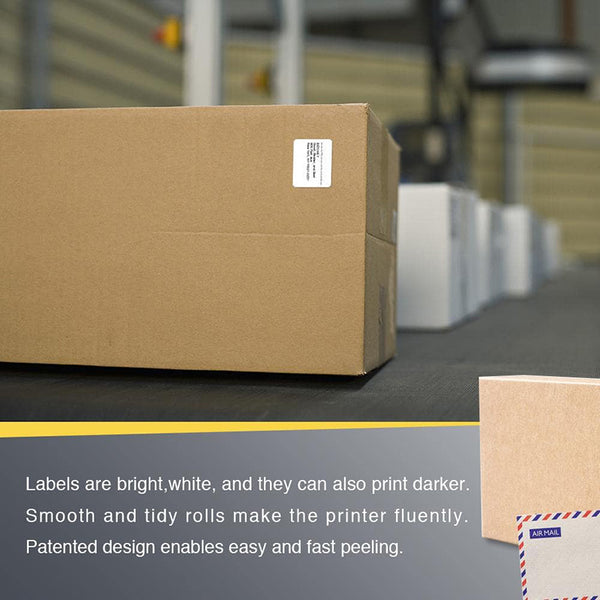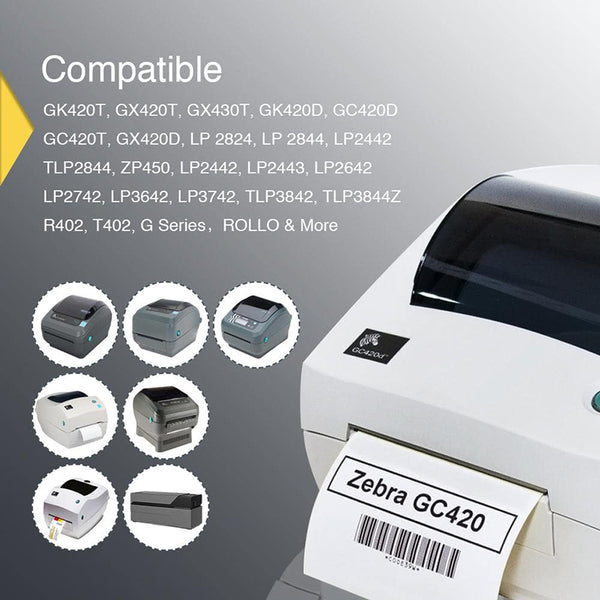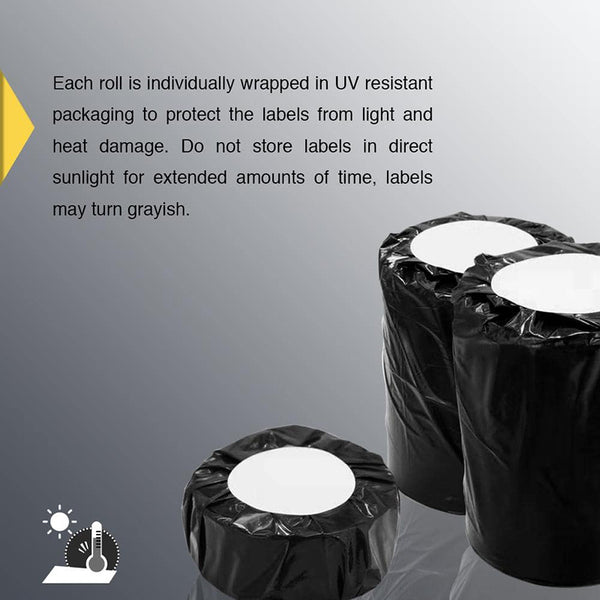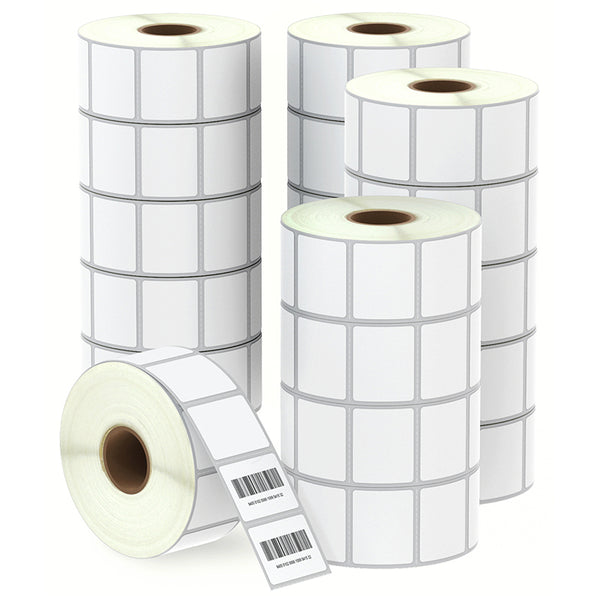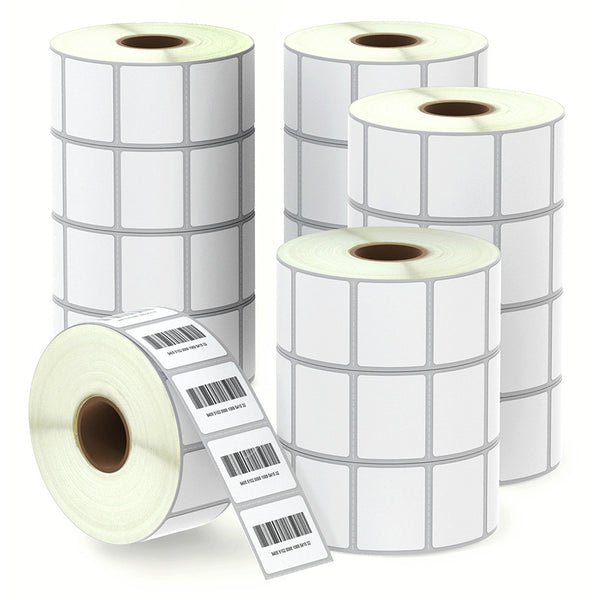 Betckey Zebra 1.25" x 1" UPC Barcode & Address Labels Direct Thermal Labels 32 mm x 25 mm
Betckey Zebra UPC Barcode and Address Labels - the perfect solution for all your labeling needs! Measuring 1.25" x 1" (32 mm x 25 mm), these labels are compatible with a wide range of label printers, including Zebra, Eltron, Intermec, Datamax, Fargo, Sato, and NEX, making them highly versatile and ideal for any labeling task.
Each roll contains an impressive 1380 labels, so you can enjoy uninterrupted labeling without having to constantly replace rolls. These labels are made with premium adhesive, ensuring that they stick securely to your items, and the high-quality paper material ensures that the printed text and barcode are crisp and easy to read.
Our UPC Barcode and Address Labels are also perforated, making them easy to separate from the roll. This makes them perfect for a range of applications, including inventory tracking, product labeling, and organizing files.
With their high-quality construction, ease of use, and compatibility with a wide range of label printers, Betckey Zebra UPC Barcode and Address Labels are an essential tool for businesses of all sizes. So whether you're a small business owner or a large corporation, make your labeling process more efficient and productive with our UPC Barcode and Address Labels.
Betckey Zebra 1.25" x 1" LABELS PRODUCT FEATURES:
【Specification】1.25 in x 1 in (32 mm x 25 mm) (1,380 Labels/Roll, 1 Roll),Paper tube diameter:1"(25.4mm). No Ink Toner or Ribbons Needed! Save your money and effort.

【Good Compability】Suitable for Zebra, Eltron, Intermec, Datamax, Fargo, Sato, NEX and most of the thermal label printers that the print width can be adjusted to 1.25 inches.
【Warm Tips】Not compatible with Rollo and Munbyn printers that hold labels outside the printer and require a width of at least 1.57 inches.
【Perforated】We go above and beyond the standard labels sold online. Our premium labels are perforated to allow easier separation between labels. Fold the printed labels together with the perforation to keep them organized. No more label messy!
【

Top Adhesive

】Still reliable on extreme temperature (14℉~158℉). The patented top adhesive provides long-lasting powerful stickness. No more shipping lost caused by labels peel-off. Enjoy the extra margin of your business.
【

Fade & Smear Resistant

】Prints crystal clear image and easy-to-read barcodes. Avoid fade and smear. Let your carriers easily scan barcode until delivery. We all hate 'return to sender' because of unreadable barcode.
【

Technical Support

】
We stand behind our brand. BETCKEY offers lifetime free customer support via message email phone call and remote desktop operation. Contact us immediately if you need any assistance.
Model
Inch
Metric
Labels Per Roll
Compatible
100050
1" x 0.5"
25mm x 13mm
2430
No Rollo & Munbyn
100100
1" x 1"
25mm x 25mm
1380
100200
1" x 2"
25mm x 50mm
750
100300
1" x 3"
25mm x 76mm
520
125100
1.25" x 1"
32mm x 25mm
1380
150050
1.5" x 0.5"
38mm x 13mm
2350
Compatible with Zebra,
Rollo, Munbyn, Eltron,
Intermec, Datamax,
Fargo, Sato, NEX and
most of the Thermal
Label Printers, except
Dymo and Brother
150085
1.5" x 0.85"
38mm x 22mm
1500
150100
1.5" x 1"
38mm x 25mm
1300
200100
2" x 1"
50mm x 25mm
1300
200150
2" x 1.5"
50mm x 38mm
1000
200200
2" x 2"
50mm x 50mm
750
225100
2.25" x 1"
57mm x 25mm
1500
225125
2.25" x 1.25"
57mm x 32mm
1000
225200
2.25" x 2"
57mm x 50mm
700
225400
2.25" x 4"
57mm x 102mm
350
250100
2.5" x 1"
64mm x 25mm
1380
262100
2.625" x 1"
67mm x 25mm
2000
300100
3" x 1"
76mm x 25mm
1375
300150
3" x 1.5"
76mm x 38mm
950
300200
3" x 2"
76mm x 50mm
750
300300
3" x 3"
76mm x 76mm
500
300500
3" x 5"
76mm x 127mm
350
400100
4" x 1"
102mm x 25mm
1375
400200
4" x 2"
102mm x 50mm
750
400250
4" x 2.5"
102mm x 64mm
620
400300
4" x 3"
102mm x 76mm
500
400400
4" x 4"
102mm x 102mm
350
400500
4" x 5"
102mm x 127mm
350
400600
4" x 6"
102mm x 152mm
250
400650
4" x 6.5"
102mm x 165mm
250
Bulk Order/Whole Sales/Partner
Return Policy
Thank you for your purchase. We hope you are happy with your purchase. However, If you are not completely satisfied with an item you have purchased from our site, return or exchange it to us within 7 days after received. And Refund will be issued as soon as the returned package confirmed.  If you are returning items that were ordered as part of a promotional discount or were bundled, we will gladly accept the return; however, the value of the discount, free product, or gift card will be deducted from your reimbursement.
Note the following:
1.All returns and exchanges must be new and unused, in the original packaging and contain all original parts and accessories and with proof of receipt include the original invoice and package tracking number.
2.Buyer is responsible for return shipping cost.
3.It generally takes 5 to 7 business days to process the returns and exchanges if the item is received.
4.We cannot be responsible for lost or damaged packages that are sent to us for return or exchange. Therefore we recommend you purchase insurance from your shipper. 
5.We cannot be held responsible for damage to items resulting from improper use not in accordance with listed directions or established practice
6.Once used, it cannot be returned and if defective or damaged must be returned to the manufacturer for warranty repair or replacement.
If a product arrives damaged or your order is incorrect in any way, please contact customer service for assistance at cs@betckey.com.
We offer full refund on any items that are found to be faulty or
damaged due to our fault. All returned items must be in brand-new condition, unused and with original tags and packaging.
To be able to better assist you, when shipping your return product
please include a note in the box with the following information:
First and Last Name
Order Number
Reason for Return
Return Address
Once we receive your returned package, we will promptly process an exchange or issue a refund to your account in accordance to our return conditions, please do not worry about it.
Frequently Asked
Product FAQs
Have product questions?
See now: Help Center
ORDER
Can I Change Or Cancel My Order?
Because we strive to get your order shipped as quickly as possible, we cannot change or cancel an order once it has been shipped.
Can I Change My Shipping Address After Placing An Order?
Please be advised that your shipping address cannot be revised after the order has been processed or shipped. kindly update your shipping address to your residential address instead of your vocational address as we do not know how long the destination's customs department will have the package on hold.
SHIPPING
How Do I Track My Order?
We will email your tracking information as soon as your order has shipped. usually you will receive the tracking number one day after we have shipped your order.
When Will My Order Arrive?
The shipping generally takes 3 to 7 business days before successful delivery. All delivery times are quoted in business days, weekends and holidays excluded. Order will be processed the following working day if all orders placed after Friday.
Is My Order Eligible For Free Shipping?
Free shipping can be applied to orders that meet the minimum amount required, excluding discounted, and sale. All items are free shipping over $50.
PROMOTION AND OTHERS
Promotion And Discount Codes
You can enter the promo code during checkout at any time.
You can find the code box on the left-hand side on the homepage if you follow us.
*Please note that only one promotion or discount code can be applied.
Can I Use Several Discount Codes In One Order?
Only one code can be used per order at this time.
Excellent
we will do future orders.
We received the wrong size and are asking to be corrected.