Halloween is a very popular holiday in the United States. However, for businesses that don't use it to their advantage, they're missing out on a great opportunity.
Don't treat Halloween like any other regular workday. We'll provide you with five exciting marketing tips for small businesses during Halloween and explain how you can benefit from this holiday.
So, let's get started on this fun and spooky journey to learn how to kickstart the holiday season with Halloween marketing.
1.
Run Halloween Promotion & Advertisement
Paid advertisements are the quickest way to promote your Halloween marketing campaign. You can use social media to remind your current subscribers and customers about your Halloween sales and special offers.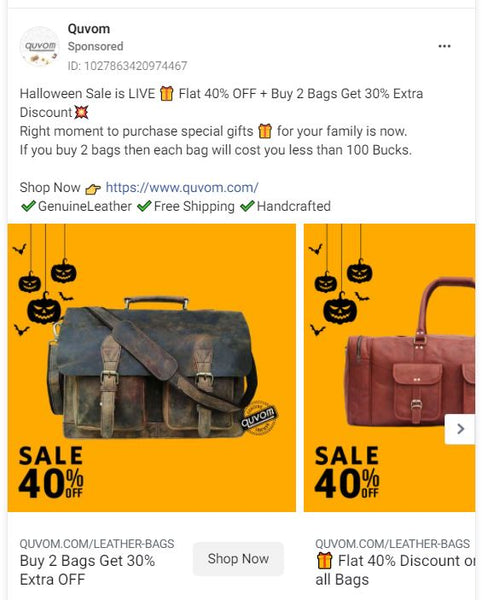 Image source: Quvom
When creating ads for Halloween, you can make them a little scary to catch your subscribers' attention on social media. You can also use Google Ads to display Halloween ads when people search for specific keywords related to the holiday.
When designing a Halloween ad, think about what your audience is interested in and how spooky or fun the design should be. Use customer data to personalize it since you know what your customers like.
Different industries may need to approach social media and paid ads for Halloween promotions in slightly different ways.
2.
Halloween Prize Giveaway
People really enjoy getting free stuff, and during Halloween, everyone loves a bit of that 'trick or treating' nostalgia.
A digital giveaway is a fantastic Halloween marketing idea to excite your customers and potential customers. You can use social media ads, text messages, or emails to let your customers know about your Halloween Giveaway.
A cool idea is to make your giveaway into a game. For instance, you can ask people to do certain things on social media to increase their chances of winning the Halloween giveaway. You can also team up with other businesses that complement yours to create a joint giveaway, which can introduce your brand to a new audience and expand your reach.
If you're worried that your brand isn't spooky or Halloween-themed enough to run a giveaway, take a look at this example by Vivitar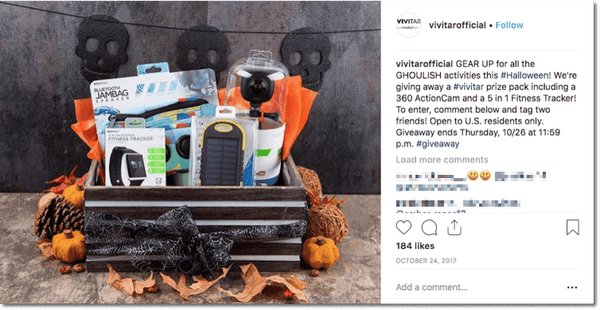 Image Source: Vivitar
Vivitar posted a picture of their Halloween giveaway prize on Instagram and asked users to comment and tag their friends to enter the contest. You can use a similar strategy to reach more people and excite your current customers.
Bonus Tip: Start an email marketing campaign to announce your social media giveaway and encourage your current subscribers to follow you on social media and participate in the contest.
3.
A Limited Edition Halloween-Themed Product/Package
Just like Starbucks introduces special Halloween items, you can also release a unique product for a limited time to draw in customers. This can create extra demand, attract new customers, and let you have a part of the Halloween shopping action.
You don't need to create an entirely new product from scratch. Instead, take a look at the products you already have and find ways to give them a Halloween twist.
For instance, if you run an online clothing store, you can create a Halloween collection using the clothes you already sell. Many candy brands like M&Ms, cosmetics companies like Kylie Cosmetics, and clothing companies release special Halloween products during this season.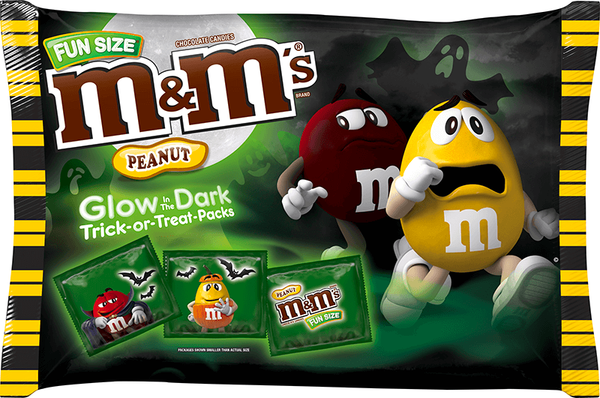 Image Source: M&Ms
However, obtaining limited edition products might be challenging for small businesses due to the minimum order quantities required by suppliers. Therefore, using stickers to make your packaging slightly different is a good idea.
Simply order some sticker papers online, use Canva or other design apps to create your Halloween sticker design in just 10 minutes, and then print them out to stick onto your packages.
4.
Develop spooky social media posts
Utilize your presence on social media to create content that fits the Halloween theme, and use hashtags to make it easy for customers to discover your posts. You can demonstrate how some of your products can be used for party decorations or showcase last-minute costume ideas made with your items.
By using Halloween-related hashtags and combining them with your own unique hashtag, you can increase brand awareness in your local area. Even if you don't sell Halloween-related items, posting interesting facts about the holiday on social media can generate interest in your store and improve brand recognition.
For instance, Anastasia Beverly Hills is a well-known makeup retailer with a significant following on Instagram. The brand frequently collaborates with beauty influencers who create Halloween makeup looks. In the captions, they provide links to each of the products used to create the featured look.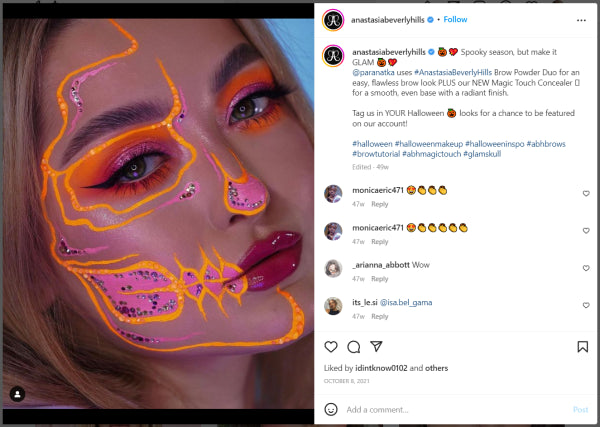 Image Source: Anastasia Beverly Hill
5.
Trick or Treat
Here's a clever Halloween marketing suggestion: Make your shoppers happy by giving them a surprise offer to boost your sales. When a customer comes to your online store, display a message that pops up and invites them to receive a treat, like a discount, gift, coupon, or free shipping.
You can turn it into a fun game. Ask your visitors to pick between a trick or a treat. One option could be free shipping, and the other could be a discount. It's a win-win for them, no matter what they choose.
Use creative methods for your online marketing strategies to bring customers to your website and get them involved in your online Halloween event.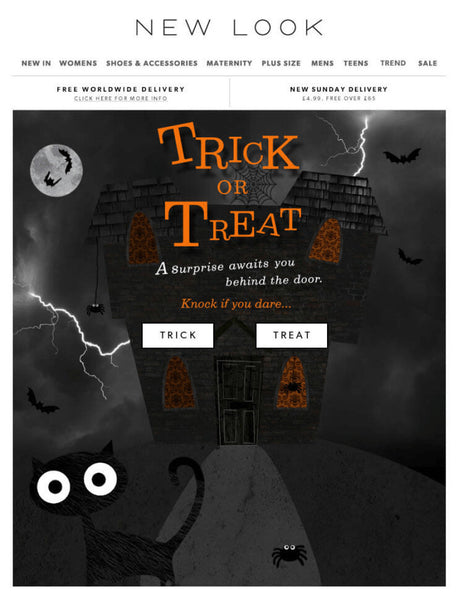 Image Source: New Look